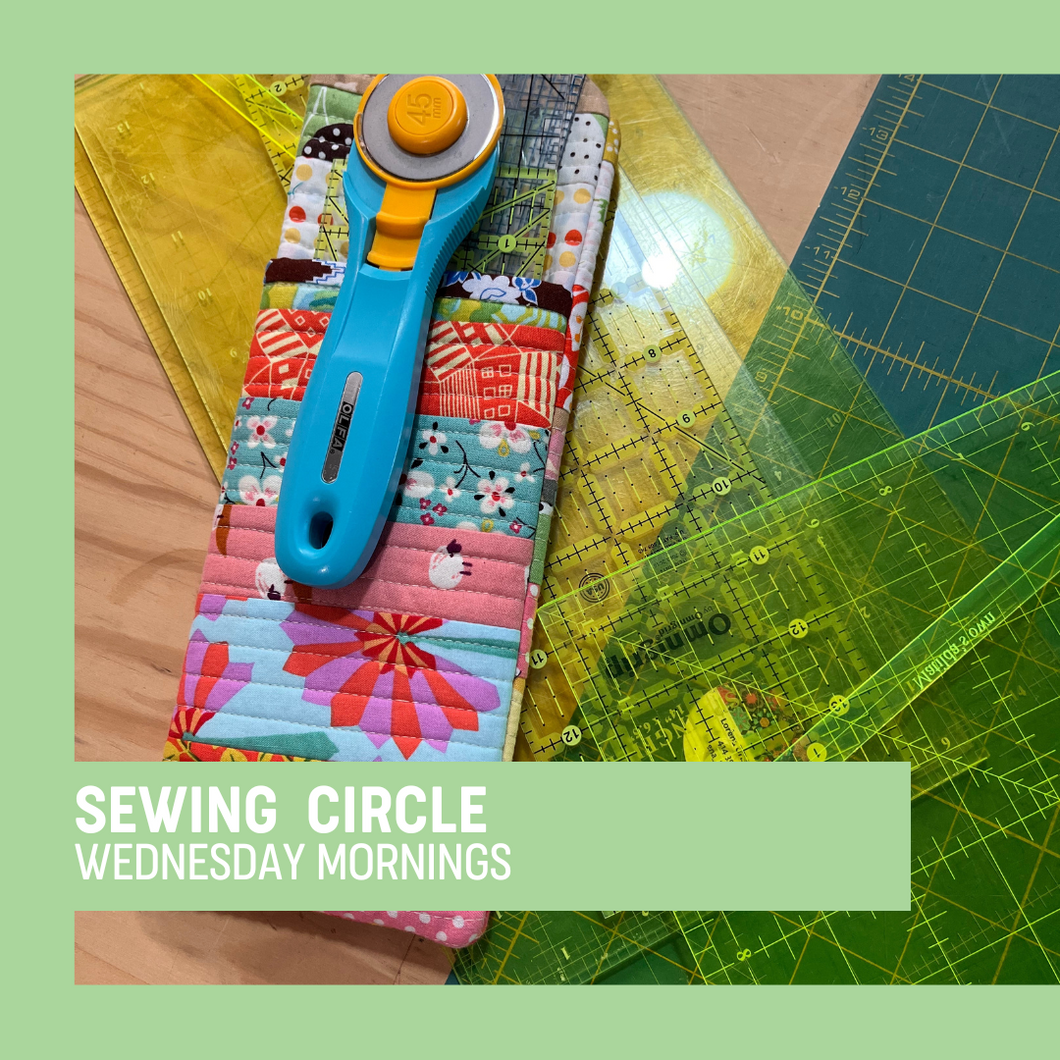 Sewing Circle
Regular price $20.00 Sale
SEWING CIRCLE!

Join SEWING friends for a lovely social morning of Quilting, Sewing and chats. 
Sewing Circle is a morning session where you can work on your own sewing project with friends.  You can quilt, embroider, or sew anything you like!  Sewing club will soon become your favourite day of the week.  Oh and sometimes, someone brings cake!
There are varied skill levels in the class so we pool our knowledge and help.  There is a sewing teacher present to help with the basics. 
Skill level: Must know the basics of sewing and be fairly confident with your machine.
What is included:

Sewing Friends

Help from teacher and friends
Copious cups of tea and coffee
What you need to bring
Your own project - fabric, pattern and thread. 
Your machine along with all it's power cords and the foot pedal.  There are machines available if you cannot bring yours. 
Your fabric scissors and sewing kit - there are irons, cutting mats, rulers and high cutting tables available.

Dates available:
Wednesday mornings - 930am to 12pm
TERM 3: Beginning 19 July to 20 September, 10 weeks in total, $20 per session

YOU CAN PURCHASE JUST ONE DAY OR ALL 10!
How to purchase a Class Pass:
Check if the class you want offers a Class Pass. You can spot it easily through the green Class Pass tag on the class photo.

Select your class date.

Select the Class Pass ticket. 

Follow the prompts and complete your purchase.

Check your inbox for your confirmation email. It will contain your Class Pass code. IMPORTANT: Remember to use it when you book your next session!
Ready to book your next session?
Here's how to do it:
Method 1
After purchasing a Class Pass, you will receive a confirmation email containing a code. 

Copy your Class Pass code. 

Click on the booking link provided. This will direct you to the booking page. 

On the booking page, enter your Class Pass code in the space provided.

Follow the prompts to complete your transaction. Easy!
Upon completing your class pass booking, you will receive a new confirmation email containing:
Booking link

Class Pass code 

No. of remaining class credits 
See you in class!